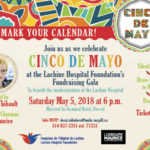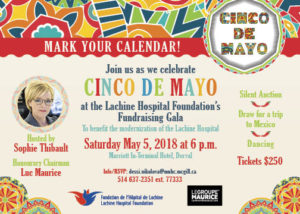 It is with great pleasure that we invite you to participate in the Lachine Hospital Foundation's spring gala taking place on Saturday, May 5th, 2018, at the Marriott In-Terminal Hotel at Trudeau International Airport.
This year's event is one that is not to be missed as we highlight the colours and flavours of Mexico and celebrate Cinco de Mayo.
The event will be chaired by Luc Maurice, Founder and President of Le Groupe Maurice, and joining us for this special occasion will be Ambassador Alejandro Estivill, Consul General of Mexico.
Over 400 people are expected to attend this much-anticipated evening which will feature a delicious 5-course meal, live music and dancing, a silent auction and much more.
Sophie Thibault, the esteemed anchor of TVA Nouvelles will be back as the evening's emcee. Sophie hosted our galas in 2015 and 2016 and made the events all the more memorable with her sense of humour and approachable style.
Ticket price: $ 250
For information or reservation, please contact us by email or by phone at 514-637-2351 ext. 77333