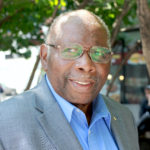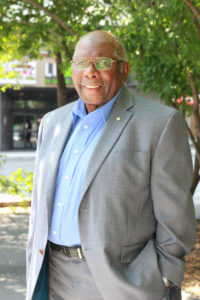 OLIVER JONES BIDS A FOND FAREWELL WITH ONE OF HIS FINAL CONCERTS BENEFITTING THE LACHINE HOSPITAL
"One pair of shoes and two suits—that's all you need," said Oliver Jones when he contemplated his successful life as a jazz musician. "I was put on this earth for a purpose. I am not particularly bright or handsome, but I have been given this gift and I need to use it to give back."
This is at the core of our Montreal-born and international piano jazz giant, Oliver Jones. With six honorary doctorates, a plethora of prestigious awards (including the Order of Canada and Quebec), 22 albums, a past that included travelling the world as Canada's Cultural Ambassador, and being a big part of the heart and soul of the Montreal Jazz Festival, he still chooses to live a life not filled with things, but filled richly with family, friends, community and the ongoing mission to fulfill his purpose of giving back.
"I have travelled the world but coming home is the proof of the pudding," he said about never forgetting who he was and where he came from. "I grew up in St. Henri, which is now Little Burgundy and I still go back almost every week. It was primarily the black area of Montreal because so many of the men worked at CN railway and CP; although my father worked for CP he was not a porter like so many. He worked as a mechanic at the Angus shops."
Both of Oliver's parents were from Barbados. His dad arrived in 1913 to join the Canadian Army because his uncle, who was a merchant marine, had been to Canada in 1887 and came back with lots of stories about his experiences. His mother, who knew Oliver's dad in Barbados, came to Canada about seven years later.
"I started to play piano because my father was an amateur pianist. He studied theory and voice so during the day when my mother wanted to do her housework she would tie me on a chair in front of his piano. She said I would bang away there for hours and not bother her. My eldest sister tells me that around the age of three and a half they noticed that I started to pick out songs that I heard on the radio and I was able to play them."
Oliver's father would sing church hymns and play a lot of Bach, and at a very early age Oliver "would somehow be able to play these." He gave his first concert at the age of five in their church and he started formal lessons at the age of eight with his second teacher Oscar Peterson's sister, Daisy. The Peterson family lived nine doors away.
"I first heard Oscar play when I was only three or four; he left an indelible impression on me. We went to the same church—the Union United on Atwater. When I was 11, Oscar left to go to the US to Carnegie Hall (his first major concert). The focus then, I would say, was Oscar has done it, now it's your turn Oliver."
Oliver did follow in Oscar's footsteps, although it took him longer to reach his stride. "It could have gone either way for me," he said.  "I think the discipline that I got at home was a very important part of my growing up. At that time there wasn't much opportunity for young black boys other than finishing high school and becoming a porter, following in their father's footsteps. Not that there is anything wrong with being a porter but there were very few career opportunities then. My parents were strict about school and this along with sports and music kept me out of trouble. I ran track and field for the province of Quebec in the early 50s and enjoyed that very much."
At the young age of 10, Oliver formed a band that would perform at churches, hospitals and prisons. By his late teens he moved to Valleyfield, where the music scene was hot and where he learned to speak French and met his wife Monique.
"My father wanted me to be an accountant, he even hired many tutors for this, but my passion was music. He always told me that you could never have a career as a musician, but you know what, he would always be the first one in the audience when I looked out. He would tell everyone I got my talent from him and my mom would roll her eyes. Only eight years ago I discovered that my mom's father was a talented organist and he and my mother and her sisters would travel around the Islands singing. She never mentioned this to us."
Oliver soon found himself playing at 'Rockhead's Paradise' in Montreal, which was an elite black night club. "This was around 1951-53. We played for dancers like Eartha Kitt and most of the black singers that we hear about today would go there, like Ella Fitzgerald and Sarah Vaughan. It was the best black entertainment in Montreal and probably in Canada. I was about 18 or 19 when I started to replace the pianist there on Monday nights. You pick up a lot of experience playing with older musicians if you are smart enough to listen to what they are saying."
Oliver and Monique were married in 1958 and their only child, Richard, was born a year later. "That was probably my best production. I have never produced anything as meaningful or wonderful as my son."
His first big break would eventually come when he landed a stint in Puerto Rico as musical conductor for singer Kenny Hamilton. It lasted close to two decades.
"It was a completely different way of life there and it was the place to be around '63. It was bustling! You looked out in the audience and you would see people like Bob Hope and Loretta Young. I became very busy as a vocal coach for many new singers as well. I loved it!"
Oliver eventually returned to Montreal where he hooked up with Charlie Biddle and the Montreal Jazz Festival. From there his career took off in Canada as the jazz giant he is today. His life would consist of sold out concerts across the nation and around the world. It was then that he also spent time as the Cultural Ambassador of Canada, recorded his albums, started teaching and was on various boards, including at McGill, Concordia and Laurentian universities.
Oliver and his trio are now wrapping up their farewell tour with sold out performances everywhere.
"I have lots of wonderful memories from my life," said Oliver, who is now 82 and underwent triple bypass surgery in 2015. "I am truly grateful for the people who have supported me throughout my career. And I am very happy to give back to all the causes that I do, including the benefit for the Lachine Hospital in November. It is a wonderful feeling and I am honoured. I often say to myself, I don't know how I have been so lucky and blessed."
When you ask Oliver Jones why he is retiring, he will tell you that he has always said that when he gets to a point where he cannot play up to 100 per cent it will be time to say good bye.
"I don't have any regrets whatsoever," said Oliver. "It has been a wonderful, tremendous 76 years of playing."
OLIVER JONES CONCERT FOR THE LACHINE HOSPITAL
Not unlike Oliver, the Lachine Hospital came from humble beginnings and to this day has remained an integral part of its community. The Lachine Hospital Foundation, which was established in 1976, raises funds for the purchase of modern equipment that is needed to improve the quality of patient care. The Foundation is honoured to have Oliver Jones perform a benefit concert – one of his last before he retires. 
Don't miss Oliver Jones in Concert at L'Entrepôt
2901 boul. Saint-Joseph, Lachine H8S 2P4
Thursday, November 17th, 8pm
Tickets: $95
Tickets not available at the door. Limited seating.
Call the Foundation at  514 637-2351 ext. 77333 to reserve your tickets today