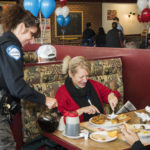 Lachine Hospital Foundation's Breakfast at Barbie's raises $16,000
Over 300 people dropped by Barbie's restaurant in Dorval on Saturday, October 15th for the Foundation's 6th annual breakfast fundraiser. This year's event was in support of the palliative care unit at Lachine Hospital. Dozens of door prizes were handed out including a pair of tickets to a Habs game, and each child in attendance received a stuffed toy.
''We are very happy with the results of this year's community breakfast'' said Dr. Laurie Musgrave, Chief of Palliative Care Services at the Lachine Hospital. ''Patients will benefit directly with these funds being used to cover the costs of music and massage therapy, among others. While some of these services are not covered by government funding we feel that they are essential to our patients' well-being. We are extremely fortunate that through the Foundation's work we are able to offer even more comfort to these patients and their families at a time when it is most needed.''
Thanks to all our supporters! 
George Tsapekis
Jimmy Baloukas
Académie Sainte-Anne
Amusements spectaculaires
Auxiliaires Bénévoles de l'Hôpital de Lachine
Barbies' Staff
Bijouterie Jean-Guy Aubry
Charcuterie Chartier Dorval
Coty Canada
Frank Lyman Design
Guy Huppé
Imprimerie Aubry
Jacques Nolin
Les policiers de Poste de Cartier 5
Les policiers de Poste de Cartier 8
Metro Pointe-Claire
Néo Café
Raymond Pilon
Rena Spezzacatena
Spinelli
Tous les fournisseurs de restaurant Barbie's
Tous nos bénévoles
Unité Cavalerie de Montréal