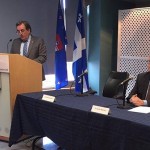 Hemodialysis at the Lachine Hospital
At a press conference held on February 12, McGill University Health Centre (MUHC) staff was joined by the Minister of Health, Gaétan Barrette, to celebrate the official opening of the new hemodialysis unit at the Lachine Hospital. The state-of-the-art unit, which was completed on time and on budget, welcomed its first patients in November. With 15 hemodialysis stations, it provides dialysis care for patients living west of downtown Montreal and parts of the west island.
The beautiful new unit is located on the first floor of the Camille-Lefebvre Pavilion, which is separate, yet directly connected to the Lachine Hospital. Patients enjoy the convenience of a dedicated entrance with an accessible drop-off area with a ramp, easily accessible parking, and a well-furnished and comfortable patient waiting area. The treatment area itself is large, with spacious dialysis bays that can be directly surveyed by the nursing team. Painted in bright and cheerful colours, the room also has large windows with plenty of natural light, and televisions for patients.
The clinic is staffed with a multidisciplinary healthcare team, which includes MUHC nephrologists, nurses, nutritionists, patient attendants, social workers and a dedicated group of volunteers, who visit the patients and provide leisurely activities.
Members of the Lachine Dialysis Steering Committee's workgroup worked tirelessly to ensure that the new unit catered perfectly to this particular patient population. "The unit was designed to provide dialysis to outpatients who are largely autonomous," explains Dr. Andrey Cybulsky, chief MUHC nephrologist. "The venue and approach to treatment facilitates care by empowering patients and supporting them in making choices that fit their lifestyle. We aim to provide patients with education, and to have the patients participate in care decisions and their treatment when possible."
Many of the patients treated at the new Lachine unit are among those previously treated in the former Royal Victoria Hospital (RVH) and in the Montreal General Hospital (MGH) hemodialysis clinics. The MGH hemodialysis unit (23 stations) continues to operate for downtown patients and those requiring more complex care, while an additional six-chair unit exists at the Glen site for the treatment of inpatients and outpatients who require specialized medical care at the Glen.
The building of this state-of-the-art unit at the Lachine Hospital has created momentum for the redevelopment of the Lachine Hospital, a project that is already in motion and will continue to evolve in partnership with the MSSS and the Société québécoise des infrastructures (SQI).
"The long-awaited redevelopment project is a key step in positioning the Lachine Hospital to fulfill its clinical, research and teaching missions and a wonderful opportunity to upgrade the building to meet current standards of infrastructure, infection control, privacy and security, and to implement the clinical plan approved by the MSSS," explains Normand Rinfret, president and executive director of the MUHC. "We will continue to offer clinical expertise in hemodialysis, ophthalmology, bariatric surgery, and long-term respiratory care and participate in teaching and research in these areas, particularly in the sphere of family and community medicine, while always applying an approach adapted to the elderly."